Jollof rice is the most common food in West Africa. For the Western world, however, it can be compared to 'Spanish rice', where white rice is boiled and added to tasty stock to make a delicious meal.
There are many different ways of preparing this dish, but this is a recipe, learned from my mother, and my favorite by far. It will no doubt be a great addition to your dinner menu. Jollof rice ingredients is a dish which can be eaten alone or with some meat or a salad.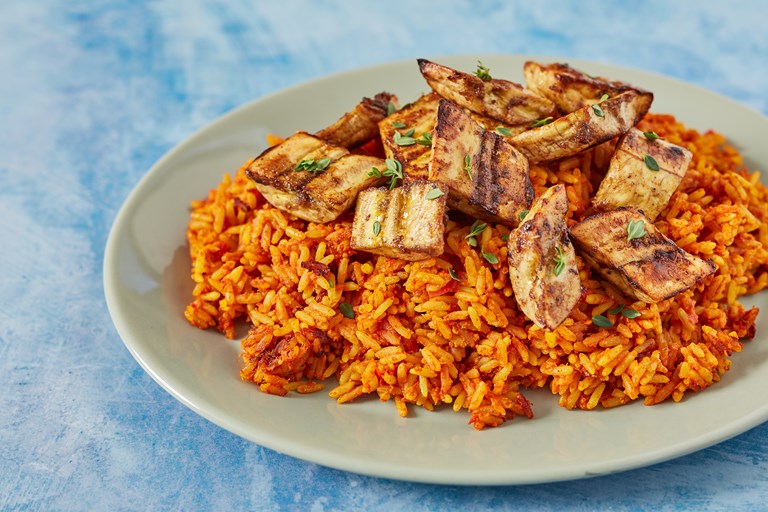 Image Source: Google
Ingredients list
1/3 cup oil (vegetable/canola/coconut, not olive oil)

6 medium-sized fresh plum/Roma tomatoes, chopped, OR a 400-gram tin of tomatoes

6 fresh, red poblano peppers (or 4 large red bell peppers), seeds discarded

3 medium-sized red onions (1 sliced thinly, 2 roughly chopped)

1/2 to 1 hot pepper

3 tablespoons tomato paste

2 teaspoons curry powder
In a blender, combine tomatoes, red poblano (or vine) peppers, chopped onions, and a bonnet of scotch with 2 cups of stock, smooth for about one or two minutes. You should have about 6 cups of the blended mixture. Pour into a large pot/pan and bring it to boil and then take it down and cover for 10 to 12 minutes.
In a large pan, heat oil and add chopped onion. Season with a pinch of salt, stir-fry for 2 to 3 minutes, then add bay leaves, curry powder and dried thyme, and pepper over medium heat for 3 to 4 minutes.